Welcome!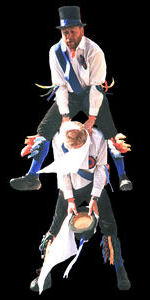 Based in Exeter, Great Western Morris perform throughout Devon, the UK, the World. For entertaining morris dancing, full of fun and excitement, come and see Great Western Morris - or, better still, come and give it a go!
For bookings and any other enquiries:
What you'll see: our repertoire
Who you'll see: our dancers & musicians

Favourite local ceilidh / barn dance bands:
After a busy year in 2014, including successful bookings at Sidmouth Folk Week (60th Anniversary) and Towersey Village Festival (50th Anniversary), this year is also going to keep us occupied. A trip to the USA in May gets the season going with a bang and later in the year we will be dancing at Shrewsbury Folk Festival. We also have several weekend trips planned to see old friends Oyster Morris, Windsor Morris, and Seven Champions - as well as local events in Exeter and Devon and our regular Monday night dance outs around the county. And in September, our next practice season begins - new recruits very welcome. Come along and give it a try!